People
Operation Christmas Drop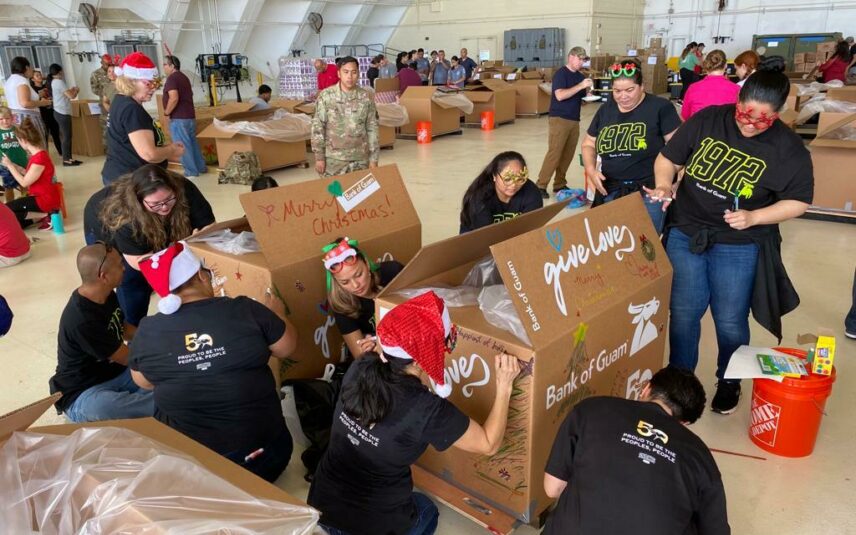 12.16.22
For over 70 years, Operation Christmas Drop has been doing their part to spread holiday cheer throughout the Micronesian region. As a private organization working with a the 374th Airlift Wing, Yokota Air Base, Japan; the 36th Wing, Andersen Air Force Base, Guam; 734th Air Mobility Squadron, Andersen AFB of the 515th Air Mobility Operations Wing, Joint Base Pearl Harbor-Hickam, Hawaii, this event drops "Love from Above". By also collaborating with the local community, Operation Christmas Drop works to provide various aid, such as non-perishable goods, first aid kits, and children's toys, to residents of some of the most remote islands throughout Micronesia.
As one of the proud community partners in this event, Bank of Guam assisted in the annual box build held at Andersen Air Force Base on December 2, 2022. The air hangar was filled with the Christmas spirit as employees from throughout the Bank volunteered to decorate boxes to be dropped. "Give love" decals were placed on these aid boxes as a call to action to and reminder for volunteers, other operation participants, and recipients to be kind and give love.
Volunteer and Bank of Guam Product Manager, Karen Gayle, was thrilled to be part of the fun and festivities. "I grew up hearing about Operation Christmas Drop and when I saw the Netflix movie last year, I really wanted to help. I jumped at the offer to volunteer and so glad I did. So much organizing has to happen to make this huge operation a success and I was humbled that I could be a part of this tradition!"
Bank of Guam has been and continues to be a proud sponsor of Operation Christmas Drop and all the work they do to support our neighbors throughout the region.